Is it me or does the holiday season bring out a want to be really done up, all the time? I waved my hair using my GHD's for the first time on Friday and felt the glamorous waves needed a make up look to go with them.
Firstly- hair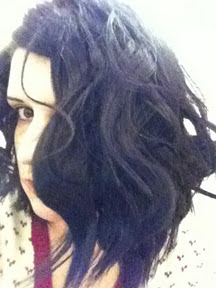 Created by bending the GHD's up and down, rather than curling.
Make up
I was wearing a black velvet dress and knew that red lips would work perfectly. Of course, I couldn't just wear normal lashes- its that festive thing again, so I found a pair of jewelled lashes by Eladora in my collection.
I extended the line into a cats eye and gently contoured my eyes with Buck from UD naked palette and Black tied by Mac. Rather a different look for me but the hair and make up went perfectly together- I loved it.